Do you suffer from discolored teeth? Perhaps you have a gap or a chipped tooth you'd like to fix. Maybe your teeth aren't straight. Whatever cosmetic problem you may have with your teeth, an easy solution may be to have them fixed with dental veneers. Contact Lovett Dental Conroe for cosmetic dentistry services in Woodlands, Texas, and learn more about dental veneers.
Cosmetic Dentistry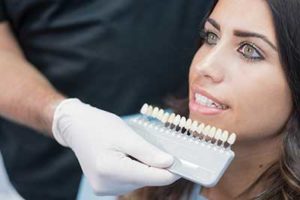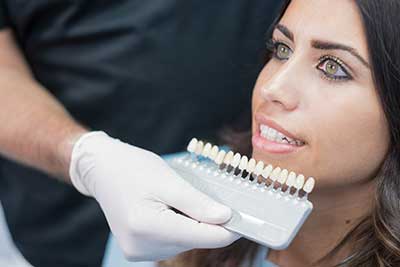 Lovett Dental Conroe offers cosmetic dentistry. Some of the services that you can expect from our office include:
What are Dental Veneers?
Veneers are thin coverings that rest on the front of your teeth. They can be used to cover stains and increase the size of a tooth. Even after bleaching, some people may find that their teeth are still yellow or discolored. Veneers are a natural-looking covering that can make your teeth look brilliant and clean all the time and with minimal maintenance.
Dental veneers are typically made of two different materials: porcelain or resin. Your dentist can go over the advantages of each of the different materials and help you decide which dental services are better for you.
Porcelain Veneers: Porcelain veneers are custom-made to fit your teeth. They're durable, long-lasting, and reliable. This is an essential feature of veneers since you want to use them for everyday activities like eating and talking. The porcelain also gives veneers a natural appearance. Because veneers require that some enamel be chipped away to be attached to your teeth securely, porcelain veneers are often preferred because less enamel needs to be removed. Finally, porcelain veneers are beneficial because they don't stain easily and last significantly longer. However, they are more costly than their counterparts, the resin-based veneers.
Composite Resin Veneers: The benefit of composite resin veneers over porcelain is that the former requires even less enamel to be removed. This means that you'll require fewer visits to the dentist to apply them and keep them maintained. They're also more affordable than porcelain veneers. While they're not as long-lasting or durable as porcelain veneers, they are easy to fix should a problem arise. Your dentist can quickly pop them off and place new ones on your teeth.
Placement of Dental Veneers
When it comes to the placement of veneers and dental veneer services, the process is relatively easy. At Lovett Dental Conroe, we strive to make our patients as comfortable as possible during each of their visits. For porcelain veneers, the process begins by removing some enamel from the front of your teeth. Sometimes enamel is removed from the side of the tooth as well. This helps make room for the veneer, which the dentist places against your teeth.
Veneers fit snugly against each tooth, so it looks exactly like a natural tooth. A mold is also made of your teeth to create a set of veneers that can fit your teeth perfectly. During veneer construction, the dentist will decide what color will look the best for your mouth. You want a natural shade rather than something that looks artificial. Once you have chosen the shade and your dentist has made a mold, your materials and the specifications are sent to a dental lab where expert dental technicians will construct your veneers. This part of the process can take several days. In the interim, the dental office will provide you with temporary veneers.
After the veneers have been made, they'll be placed on your teeth. First, you will have a fitting. The veneers will be placed against your teeth to ensure that each one fits perfectly. If any adjustments need to be made, then the dentist will make them at that time. Once the veneers are fitted perfectly, they will be bonded to the teeth. When it comes to composite resin veneers, the process is similar. The main difference is that, in that case, a composite is made and spread across your teeth to anchor the veneers. The veneers are then shaped and polished to the satisfaction of the dentist.
Find Out If Dental Veneers are Right for You at Lovett Dental Conroe
Dental veneers are an excellent way to restore the look and feel of your teeth. Our team at Lovett Dental Conroe wants to make sure you know all your cosmetic and restorative options. So we will guide you through the process, answering your questions and helping you decide if dental veneers are right for you or your family. It's all part of our larger service delivering the best dental care around, including:
Dental exams
Teeth cleaning
Fillings and sealants
Fluoride treatments
Nightguards
Root canal treatment
Crowns and bridges
Contact Lovett Dental Conroe online or call us at 936-760-2400 for more information about dental veneers.