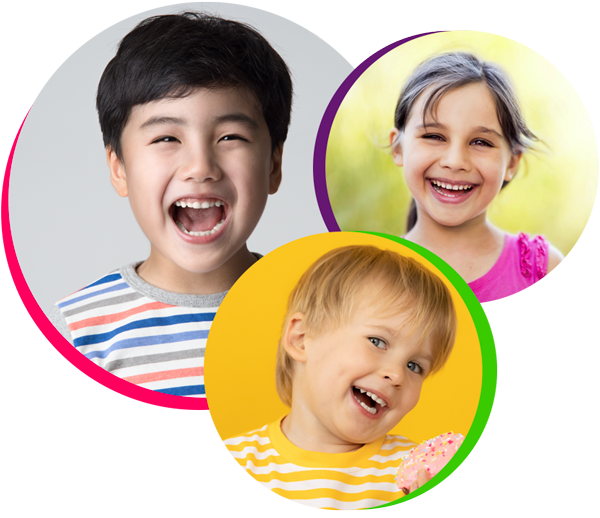 Pediatric dentistry is oral health treatment for children and young adolescents. Here at Lovett Dental Conroe, we believe in helping children learn and embrace healthy dental habits early. Our friendly team at our family dental practice is devoted to ensuring every smile that comes through our door is happy and healthy. We've worked hard to create a comfortable atmosphere that's both fun and educational because we believe that a positive experience leads to positive results.
It is always our goal to create healthy, happy smiles for each and every patient we see. We believe that a healthy mouth leads to a healthy body and a healthy life!
Pediatric dentists understand the unique needs of children, having spent several years of specialty training beyond dental school. They limit their practice to treating the oral health needs of infants and children through adolescence, including those with unique health needs.
From birth through their late teen years, children have different oral health concerns than adults. Having a pediatric specialist on our Lovett Dental Conroe team means we can grow with your family, providing care from childhood into adolescence and on into adulthood. Starting strong at an early age with a pediatric dentist lays the foundation for a lifelong attractive, confident smile.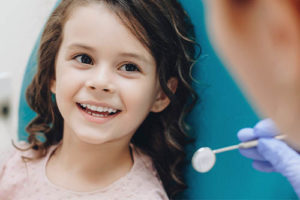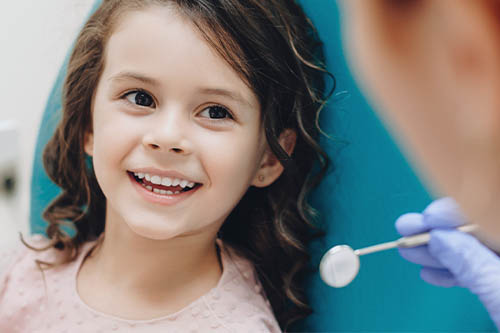 Even though our baby teeth are naturally replace with our adult, permanent teeth doesn't mean oral health can be ignored during childhood. Children are at risk for cavities and other issues unless they get proper dental care. These issues can cause problems ahead of permanent teeth coming in and even other health issues if not taken care of early. This is why parents need to take the time to look into their pediatric dentistry options.
Making Visits to the Dentist Fun
A child's early interactions with dentists and the office environment often set the tone for how they will view oral health. Children with bad experiences routinely want to skip future dental appointments, while those who see it as a fun event are more willing to manage their health. Good pediatric dentists like those at Lovett Dental Conroe know how to reassure young patients who may be feeling anxiety. They can play games, talk in silly voices, or joke around with patients to make visits fun instead of scary. Reducing dental anxiety in this way means that as adults, children will be more likely to make and keep dental appointments, leading to improved oral health. It's a simple thing, but when you pick the right pediatric dentist, your child will look forward to tooth cleanings instead of trying to avoid them.
Our pediatric dentists communicate with patients in ways they understand and feel comfortable helping your child learn about oral care. They have a very valuable role in educating patients on proper brushing methods, the importance of flossing, and more. The team at Lovett Dental Conroe knows how to explain complicated medical concepts so that younger patients can find them interesting and easy to understand.
Get Specialized Care with Pediatric Dentistry
At Lovett Dental Conroe, we understand that the needs of our younger patients may be different from older ones. Children's dentistry in Conroe, Texas, goes beyond just being able to get along well with children. Infants and children also have some unique dental needs that may need to be addressed by a pediatric dentist.
Our pediatric dentists are aware of common oral defects and infections that children get to identify and treat these conditions. They can provide recommendations for replacing bad habits like thumb sucking with positive habits like flossing. A family dentist is aware of how tooth loss and tooth growth should progress, so they can monitor your children as they lose their first teeth. In cases where surgeries, tooth-colored composite fillings, or cavity removal are required, a pediatric dentist needs to know how to provide the proper dosages for smaller patients. As your children grow, a pediatric dentist can evaluate their teeth alignment to see if they need orthodontic braces or aligners. Lovett Dental Conroe's pediatric dentistry services include:
The Special Educational Requirements of Pediatric Dentistry
To provide the best children's dentistry, a pediatric dentist goes through a lot of specialized training. Like all other family dentists, they have first to get an undergraduate degree and then go through four years of dental school to learn about tooth, gum, and mouth care. After this, dentists who want to become family dentists take extra classes to learn about their specialty.
They have to take a two-year residency program in the field of pediatrics for dentists. This program contains a blend of classes on child development, psychology, dentistry, and pharmacology. A pediatric dentist will also need to get plenty of experience working with children alongside a trained pediatric dentist before they complete the program. Once they pass all federal and state dental examinations, they can begin working with patients full time.
Discover How Lovett Dental Conroe Is Right For You
If you are trying to find a quality pediatric dentist for your family, look no further than Lovett Dental Conroe. Our professionals interact with patients in a way that makes dentist visits fun and educational, and they know how to manage dental conditions common in younger patients. We also offer general dental services for the whole family, including:
Contact us at 936-760-2400 to learn more about our pediatric dentistry in Conroe, Texas, or to schedule your next appointment.