There are times when it is not possible to save a damaged tooth. When this happens, you may need a tooth extraction, a procedure in which we safely remove the tooth from your mouth. This process is done under our dental team's care, with careful attention provided to your pain. Tooth removal is one of the services we can provide to you at Lovett Dental Conroe.
What Happens During a Tooth Extraction?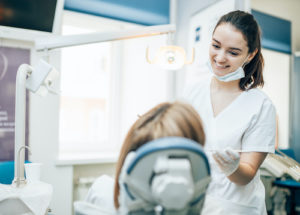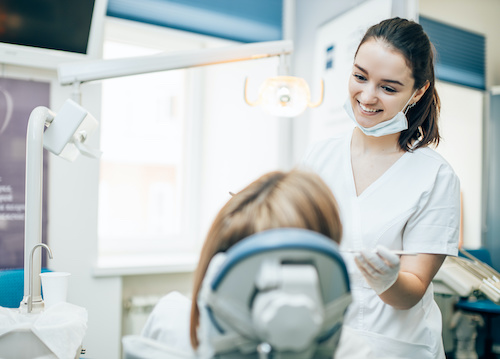 When you have a damaged tooth or significantly decay toothed, tooth extraction may be necessary. Our team will provide you with a full consultation and examination as a first step. Whenever possible, we do everything we can to save your tooth. This includes using dental bonding or oral surgery to give you the best chance to keep your tooth.
When this is not possible, we will work to remove the tooth. In some situations, our dentist can do this for you during the same visit. If the teeth are complex or the damage is extensive, we may recommend the use of our oral surgeon instead.
We may recommend the use of an oral surgeon for tooth extraction if there is a need to manage the soft tissue in your mouth surrounding the tooth. This is often necessary if the tooth is broken into several pieces, making a simple removal impossible.
Don't wait to come in for tooth removal or treatment. The longer you wait, the more likely there are to be complications with saving an existing tooth or limitations on the types of procedures we can use. In every situation, we recommend calling us right away if you have tooth damage.
Why Do You Need Tooth Removal?
Teeth extractions are not uncommon. While we do everything we can to help save your permanent teeth, we also recognize the need to remove your tooth when it becomes infected or damaged beyond repair. You may also need to have a tooth extraction if there is significant decay that has caused the tooth to break down significantly, putting other teeth or your jawbone at risk.
It is common to have tooth removal in situations such as:
Impacted tooth
Severe decay beyond repair
Accidental injury that cannot be repaired
Overcrowding of the tooth
Gum disease that damages the tooth and root structure
What Happens After Teeth Extractions?
We don't stop there, unless you want us to, with teeth extractions. If you have to have one or more teeth removed, our team will talk to you about solutions to help you improve your oral health. This may include the use of dental implants. With extensive options available, we can often make a recommendation for you based on your specific situation.
This is only done after you've had time to heal. Our team works with you on the process for as long as it takes to ensure you are healthy and smiling again.
We may make recommendations for the services we can offer to you or that may work in your situation. Some of those services include:
The care you receive is always specialized to your unique needs. Teeth extractions do not have to mean you won't love your smile again. Let our team take a closer look and offer solutions for you right in our Texas office.
Call Lovett Dental Conroe Today
If you're struggling with any dental problem or need a tooth extraction, call Lovett Dental Conroe today. If you are experiencing pain or an emergency, we may be able to get you in right away. Call 936-760-2400 to learn more.